[Copy of email sent to H4A Members on 6/6/19]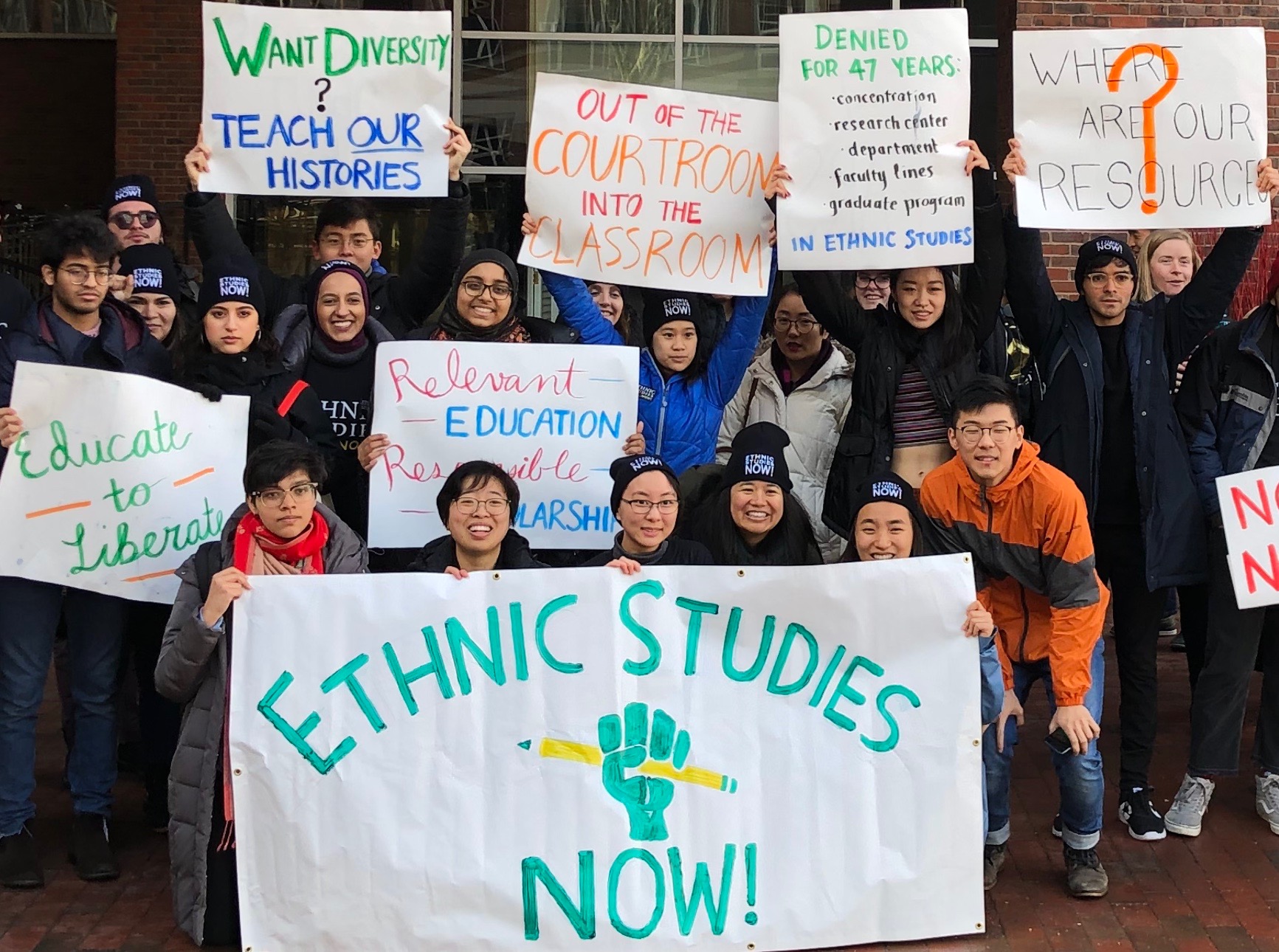 Dear Members,

This week brings good news on the 47-year-long fight for Ethnic Studies, including Asian American Studies! On Monday, Claudine Gay, Dean of the Faculty of Arts and Sciences, announced a search for three to four senior faculty in Ethnic Studies, with the goal, she said, to "ultimately, inspire a new concentration in ethnicity and migration." This is the first time that Harvard has made a public commitment to building such a major—and it is long overdue!

While alumni support has been critical, we must first thank the students (some of whom are alumni now) who have led the way over the decades and, alongside the faculty, have done the hard work of building coalitions, educating the campus, rallying, protesting, fasting, petitioning and pursuing their own academic paths in Ethnic Studies despite a dearth of classes and advisors. If I named names, I would regrettably leave someone out, but if you click on the various links, including for Task Force on Asian and Pacific American Studies (TAPAS), the Asian American Studies Working Group, and the Harvard Ethnic Studies Coalition, you will see their names and faces and voices and leadership. I am in awe of their vision and determination.

Unanswered questions remain, highlighted by the students in Monday's Gazette article, particularly about the unspecified structure and resources that will ensure that Ethnic Studies is academically valued and central. The 13 Yale professors walking out of their program this spring was a vivid reminder of this need. Dean Gay met recently with me and Shirley Cardona, co-president of the Harvard Latino Alumni Alliance, and said she believes firmly that the faculty must be hired first and have a role in creating the program. She said that Harvard will be looking for scholars who want to be builders, with a target start date of Fall 2020. We will continue to press Harvard to include in the job announcement its commitment to establishing a robust Ethnic Studies program with its own faculty members and to specify that the new faculty will be provided with ample resources and course release so that they can devote significant time to building it.

We at H4A will continue our advocacy in concert with the above-named groups, plus the Coalition for a Diverse Harvard and alumni Shared Interest Groups. In the meantime, Asian American Studies is in a bit of a hole since the distressing departures of Professors Genevieve Clutario and Natasha Warikoo. H4A member contributions have been critical to supplementing resources, so if you give to Harvard, please consider designating your contribution to these funds:
1. Visiting Faculty Fund in Ethnic Studies in the FAS (Asian American Studies)—supports the hiring of visiting faculty who teach for a semester or two; though temporary, their courses help meet the high student demand. It takes about $80,000 to bring a visiting professor in for a year, which this fund has done a number of times since 2009, but gifts of any amount are welcome.
2. Ethnicity, Migration, Rights Fund (Asian American Studies)—supports needs of the EMR program and the Asian American Studies Working Group. This fund also supports the Asian American Studies Thesis Research Grant that was launched in 2018 with H4A members' support. In 2018 we collectively contributed about $7000 and hope to do so again. CONGRATULATIONS to 2019's grant winners—please read about their amazing projects!
HOW TO DONATE: Go to the University online giving form, choose Faculty of Arts and Sciences and then choose OTHER-FAS. Write the name of the fund above in the box or on your paper contribution form. Note: A gift to these Funds counts as a donation to Harvard College and the Faculty of Arts and Sciences, but not to the other schools (HLS, HBS, HMS, etc).
This email is long enough, so I'm going to stop here with a big THANK-YOU to our members who have engaged on this issue, including our University Affairs Committee, headed by Ivy Yan AB '10, JD '15 and Margaret M. Chin AB '84, and our many members active with the Harvard Ethnic Studies Coalition, especially Juhwan Seo AB '17. For those who want more, below is a list of greatest hits in Ethnic Studies since H4A was founded in 2008, since it's important to celebrate all the hard work that has helped get us here! As always, please email me at president@haaaa.net to let me know of your questions or interest in getting involved!

Gratefully,
Jeannie
H4A President
Jeannie Park AB '83
Milestones in H4A's Advocacy for Ethnic Studies and Asian American Studies (not to detract from the many students, faculty and other groups who have led the charge!)
2008: Alumni connect with Harvard student and faculty activists around resurgent campus advocacy for Ethnic Studies; we help link two disparate groups of faculty advocates.
Spring 2009: Alumni raise funds to endow Harvard's first professorship in Ethnic Studies and also launch a Visiting Faculty Fund to help fill teaching gaps. Visiting Professors Denise Khor and Hua Hsu are hired for 2009-2010 through this fund.
Nov. 2009: Harvard announces that as of Fall 2010 students can minor in Ethnic Studies; in 2012 the Committee on Ethnic Studies overseeing this secondary field is renamed the Committee on Ethnicity, Migration, Rights (EMR).
Sept. 2010: Harvard begins a search for an Asian American Studies professor to fill the endowed position and in July 2011 Ju Yon Kim is hired as an assistant professor in the English Department; she is Harvard's only tenure-track Asian Americanist—"I was very surprised" by this, she says. Her Fall 2011 course Introduction to Asian American Literature has seven students; in 2018, with 70 students, it is one of the most popular English classes.
Fall 2014: Visiting Professor Christine Yano teaches an Asian American Studies seminar at Harvard that leads to the publication of an anthology of student essays, Straight A's: Asian American College Students in Their Own Words, co-edited by H4A's Neal Akatsuka, with contributions by several other alumni. After publication in 2018, the book and its authors are featured at the 2018 H4A Summit.
December 2016: Alumni join students, faculty and administrators in signing the 12th petition for Ethnic Studies, which goes to President Drew Faust with 1,000 signatures.
April 2017: Hist & Lit announces that its concentrators can specialize in Ethnic Studies, which is now the most popular area of focus in Hist & Lit.
Sept. 2017: H4A writes to the Presidential Search Committee stressing that the new Harvard President must support a comprehensive Ethnic Studies program. In Fall 2017, due to faculty leaves and insufficient backup, there are zero courses in Asian American Studies.
November 2017: In response to suggestions submitted to the Presidential Task Force on Inclusion and Belonging, alumni upvote a proposal to Establish a University-Wide Center on Race and Ethnicity, making it the most popular suggestion publicly submitted; in the comments section, alumni express their dismay that Ethnic Studies still does not exist.
June 2018: H4A and a coalition of other alumni and student organizations sign the Ethnic Studies Coalition letter urging President-Elect Bacow to hire a new FAS Dean who will develop a degree-granting Ethnic Studies program
January 2019: H4A and other alumni groups send letters to President Bacow protesting the departures of professors Clutario and Warikoo
February 2019: Alumni support the Ethnic Studies Rally that compels President Bacow to address the issue of Ethnic Studies at a global meeting of the Harvard Alumni Association. As attention focuses on campus diversity due to the admissions lawsuit, students and alumni emphasize that Ethnic Studies is a critical unmet need.
June 2019: Dean Gay announces a search for the first cluster hire of senior faculty who will develop a new concentration and program in Ethnic Studies.