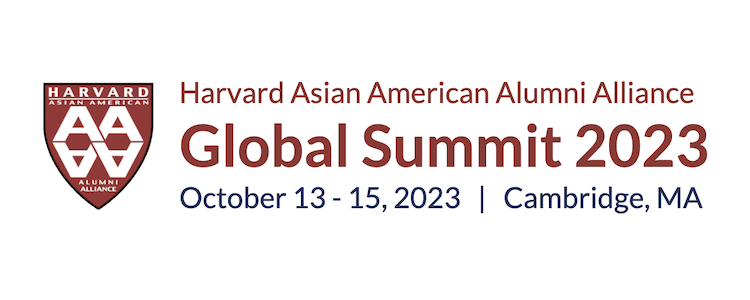 As Asian Americans in 2023, how do we define "success"? For decades, many defined it as achieving greater numbers and visibility in all realms of society. But even as Asian Americans have risen in influence in government, business, entertainment, and education, our communities have continued to face toxic stereotypes and violent anti-Asian hate. Today, it's clear that our goal must shift beyond representation — beyond numbers and visibility — toward building coalitions, elevating our complex humanity, and telling stories that reflect the nuanced and specific realities and challenges that make up the diverse Asian American experience.
Every four years the Harvard Asian American Alumni Alliance (H4A) convenes its global summit, bringing together Harvard Asian and Asian American alumni, faculty, and students across generations, classes, and schools. This October 13-15, join us for three days of inspiration, engagement, and connection by registering now at Early Bird rates.
At Beyond Representation: H4A's Global Summit, we will share and collectively explore our experience is as Harvard Asian Americans — in college admissions, the hierarchies of Hollywood and corporate America, and the halls of political power. Our alumni speakers will take you beyond expectations and stereotypes, sharing personal stories from the heart and ultimately shining a light on the fact we are much more than numbers — we make up a multiverse of stories, contexts and experiences, which are together more than the sum of our many parts.
Come join the conversation on how we, as Asian American leaders can be different from the norm. How we can move beyond representation to a more nuanced definition of success. And where we can and should go from here.
JOIN hundreds of Asian American alumni from Harvard, October 13-15 on campus once again to:

BE INSPIRED by Asian American alumni from a broad range of fields who are passionately making their mark on society and the world.

ENGAGE in discussions about the most provocative issues of our day–from affirmative action to artificial intelligence to our growing voice in Hollywood - and how Asian Americans can drive change.

CONNECT across classes and Harvard schools. Catch up with old friends and make new ones in an interactive, supportive setting.
Check out the official Summit website for the full agenda: http://summit2023.haaaa.net/. For more information or questions, please email summit@haaaa.net.