Welcome to the Harvard Asian American Alumni Alliance!

HAAAA seeks to develop a network and a sense of community and support among Asian-American and Asian alumni globally, to provide an outlet for the expression of our shared culture and experience, to support the larger Harvard Asian community and to represent our concerns at the University and beyond. Please join our mailing list by signing up on the Membership Page. We hope to see you at one of our events soon!

The H4A Nominating Committee is happy to announce the five new and reelected members who will join the H4A Board of Directors for the 2021-22 term.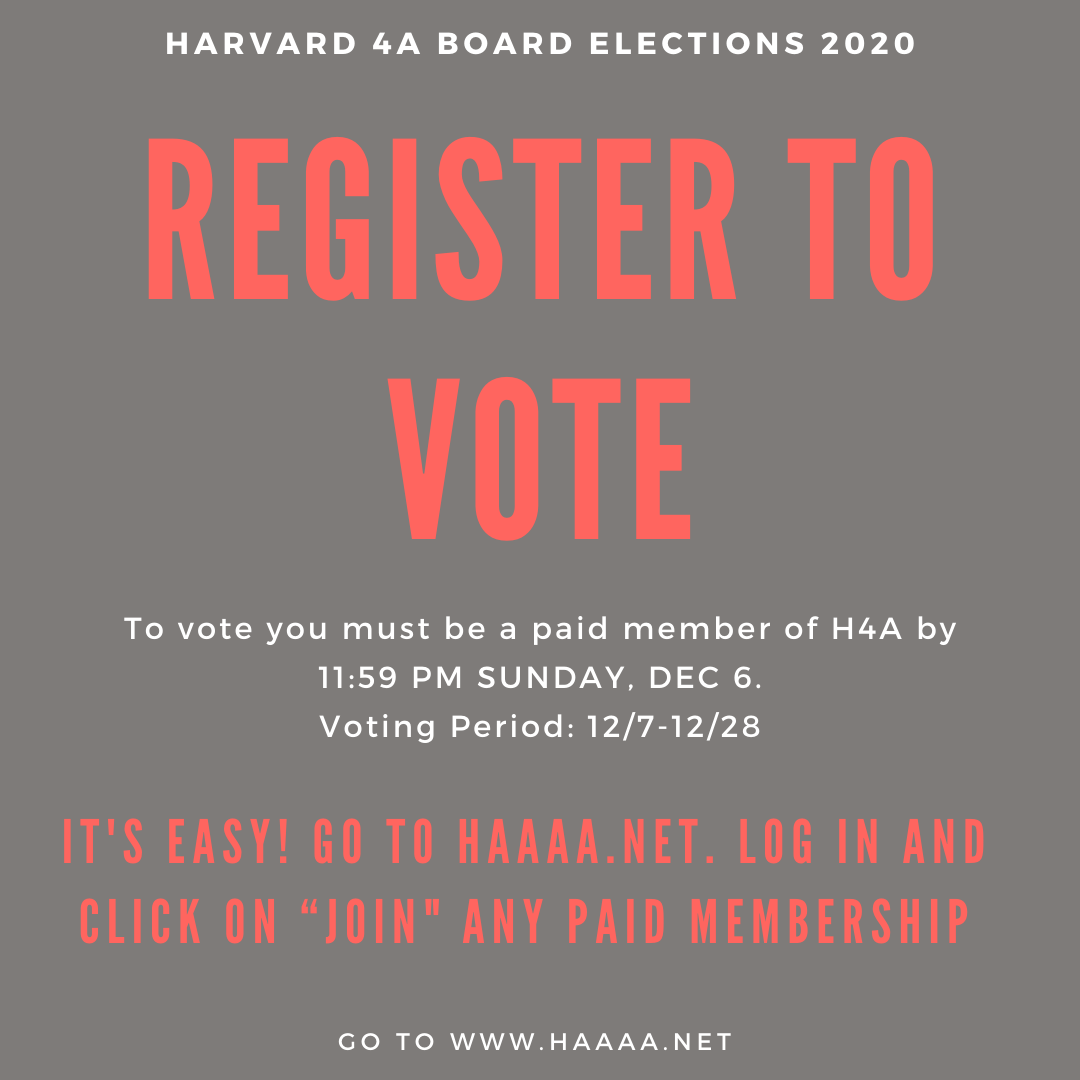 A dozen alumni are running for the five open spots on the H4A Board of Directors. To vote, you must be an up-to-date paid H4A member on December 6, 2020 (unless you auto-pay or prepay, memberships expire annually!).
Upcoming Events
3:00PM - 4:30PM Fri 22 Jan 2021 ( Timezone: Eastern )

Join Harvard faculty and fellow alumni for a conversation on the past, present, and future of reparations.
FEATURED

7:00PM Wed 9 Dec 2020 ( Timezone: Eastern )

To Open or to Close? Inside a City's COVID Dilemma, with Dr. Jay Varma ('93), NYC Senior Advisor for Public Health

FEATURED

1:00PM Sun 6 Dec 2020 ( Timezone: Eastern )

Financial planning for Asian-American executives and dual career couples

FEATURED

8:00PM Wed 18 Nov 2020 ( Timezone: Eastern )

Alumni on the frontlines of COVID-19 vaccine development will answer your burning questions about the "fastest vaccine ever"