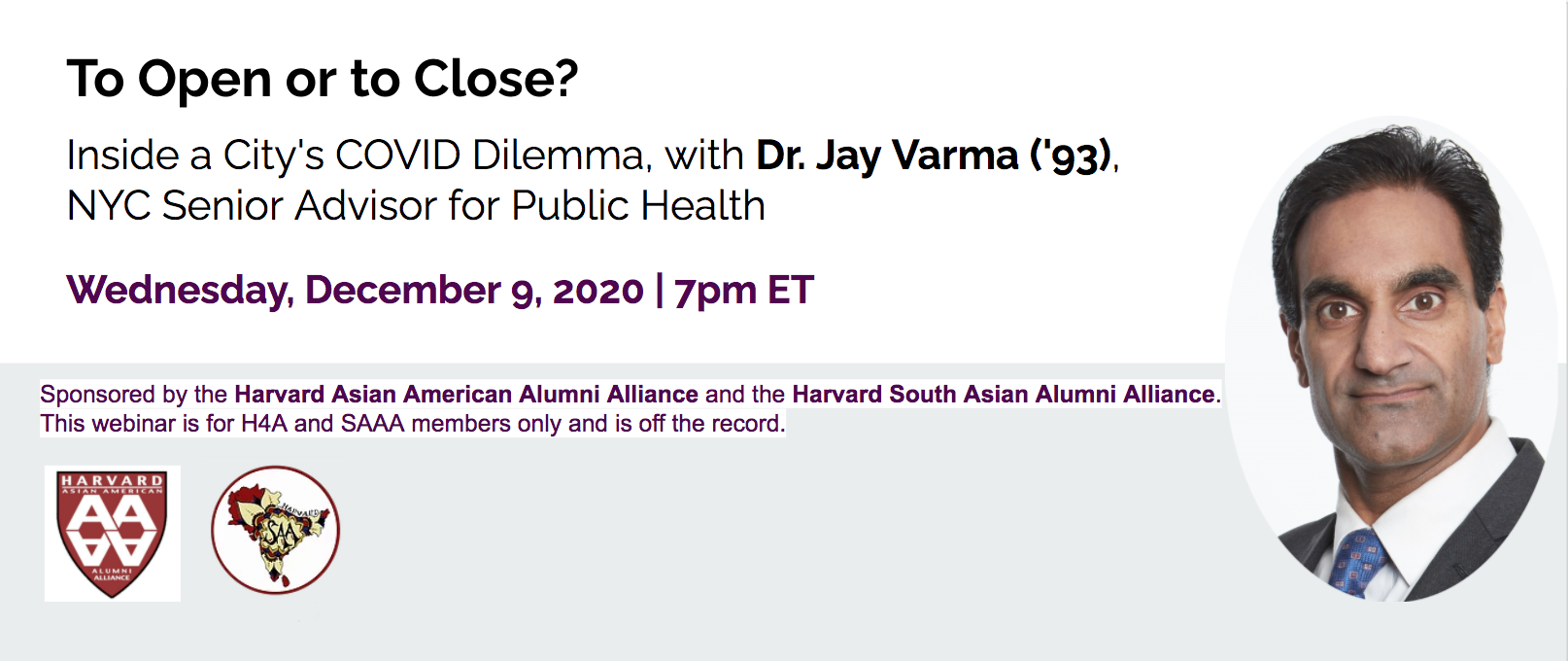 Wednesday, December 9, 2020 | 7pm Eastern
Description
Please join us for an inside look at how New York City is confronting the many challenges of the COVID pandemic. In conversation with classmate and H4A Vice President Dr. Mukesh Prasad AB '93, Dr. Jay Varma AB '93 will share his experiences from the early epicenter of the pandemic and how he and his public health colleagues worked to bring the soaring case count under control. He will also share the tough decisions the city has been facing as cases rise again across the country, as well as his predictions for what the future will bring.
Sponsored by the Harvard Asian American Alumni Alliance and the Harvard South Asian Alumni Alliance. This webinar is for H4A and SAAA members only and is off the record.
About the Speaker
Jay K. Varma, MD (COL '93) is a world-renowned expert on the prevention and control of diseases, having led epidemic responses, developed global and national policies, and led large-scale programs that have saved hundreds of thousands of lives in China, Southeast Asia, Africa, and the United States. At the height of the coronavirus epidemic, Dr. Varma was based at the African Union in Addis Ababa, Ethiopia, where he led conception and development of the African continent's first public health agency (Africa CDC). Dr. Varma authored the African continent's strategy for COVID-19 response and policies on community social distancing measures, quarantine and monitoring, and clinical management of COVID-19, which have been credited with helping avert large-scale illnesses and deaths. Recruited by the Mayor of New York at the peak of the epidemic, Dr. Varma has served since April 2020 as the principal scientific spokesperson and architect for New York City's COVID-19 pandemic response, including the largest diagnostic testing and contact tracing programs in the country, the phased re-opening of businesses, and the health policies and practices for the safe re-opening of the largest public school system in the country. Dr. Varma has authored 138 scientific manuscripts, six essays, and one book. A Captain in the US Public Health Service, he has been recognized as the US Public Health Service Physician Researcher of the Year (2010) and Physician Leader of the Year (2017) and has received the two highest awards in the US Public Health Service (Distinguished Service Medal, 2011; Meritorious Service Medal, 2018).