Harvard Diversity Discussion: Workplace I.D.E.A.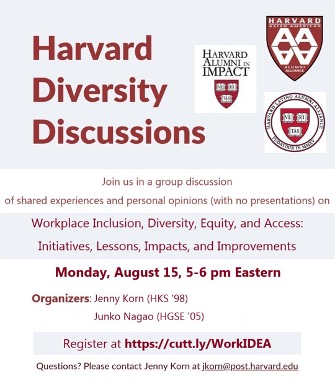 Date: Monday, August 15, 2022
Time: 5pm - 6pm Eastern
Harvard Diversity Discussions hosted by the Harvard Asian American Alumni Alliance (H4A), Harvard Latino Alumni Alliance (HLAA), and Harvard Alumni in IMPACT.
Join us in a group discussion of shared experiences and personal opinions (with no presentations or breakouts) on "Workplace Inclusion, Diversity, Equity, and Access: Initiatives, Lessons, Impacts, and Improvements." Organized by Jenny Korn (MPP '98) and Junko Nagao (EdM '05).
If you have questions, feedback, or suggestions for topics for future Harvard Diversity Discussions, please contact jkorn@post.harvard.edu.